2023 Cottagecore Style Must-Have: Handmade Mushroom Cardigan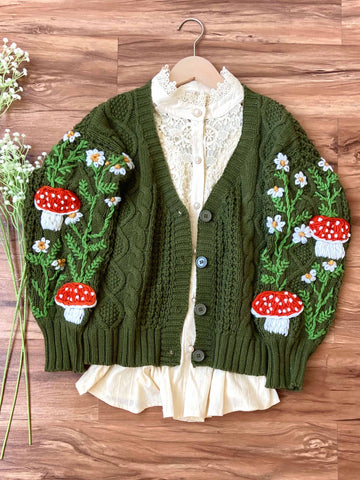 The Handmade Mushroom Crochet Sweater Cardigan is undoubtedly the featured item in a cottagecore style outfit. It combines the natural elements of the countryside with crochet craftsmanship to reveal a unique beauty and warm texture that makes you feel like you're in the middle of a
cottage
core aesthetic
landscape.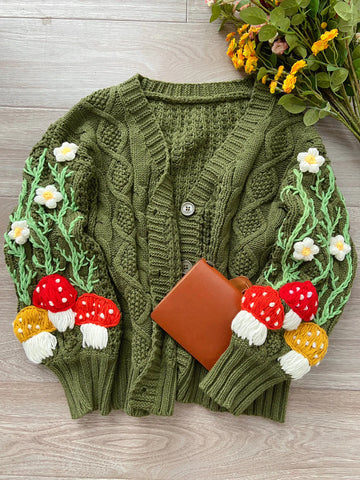 The handmade Mushroom Crochet Sweater Cardigan not only showcases crochet skills, but also incorporates the classic design of a sweater cardigan. In terms of production ideas, you can choose a loose sweater cardigan style to fit the casual atmosphere of country life. In terms of material selection, you can choose soft wool fabrics, combined with silk or rayon fabrics to enhance the overall texture. The production steps include needle starting, crochet, embroidery, sewing and finishing. Each step requires delicate handling to ensure the quality of the final product and add a natural and cozy touch to the overall look.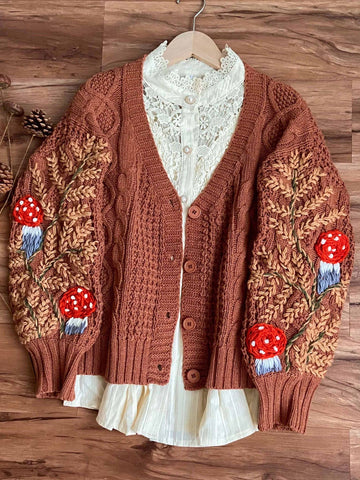 Mushroom embroidered sweater cardigan matching can be adjusted according to different occasions and personal preferences. In the country
cottage
core
life, you can match it with loose cotton and linen long skirt or jeans to create a casual and comfortable wearing style. It can also be paired with some
cottage
core
accessories such as straw hats and wooden bracelets to further enhance the overall
cottage
core
look. In terms of color matching, you can choose brown, beige, khaki and other warm-toned items to match to create a warm and comfortable visual effect.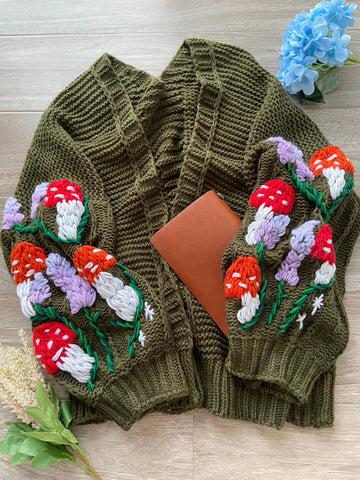 The Handmade Mushroom Crochet Sweater Cardigan is a unique
cottage
core
countryside style item, whose delicate embroidery technique blends perfectly with the loose sweater cardigan design to present a natural and cozy atmosphere. Wear it with a loose cotton vest dress or jeans and
cottage
core
accessories for a unique country
cottage
core aesthetic
 look. Whether it's a weekend retreat or a fall picnic, the Mushroom Embroidered Sweater Cardigan will add a unique charm to your look. I hope this blog post inspires you to get passionate and creative about country 
cottage
core 
style dressing, come and enjoy crafting together!